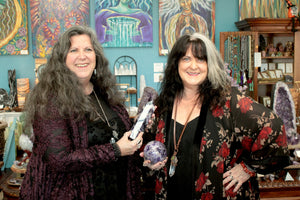 We are the Rock Mamas and this is the story of our journey to realize a dream
At Rock Mama, we offer beautiful crystals and gifts that are energetically clean and bright. Our goal is to provide a positive, welcoming space, where each person is warmly greeted and leaves feeling just a bit better than when they arrived, and that every one of our website orders is treated with the utmost care.
The sisters' story
Hi Everyone – we are Suzanne and Toni and we are the Rock Mamas!
Our story begins when we were just little girls, searching for the "magic" sparkling rocks in our grandpa's garden – or climbing on the landscape boulders there and contentedly chatting with them for hours. As we grew up, we would visit every rock shop we could and dreamed about one day having one of our own.  
Fast forward to the early 2000s, when the economy crashed and Suzanne lost her job. Unable to find work, she turned to her passions: art, rocks and crystals.  Our parent business, Stone Circle Studio, was born out of this seeming disaster.  For over a decade, Suzanne travelled from town to town in her Dad's beloved old truck, setting up her wares at craft festivals. Over time, Stone Circle Studio outgrew its small back bedroom, moved to the garage, and finally needed to find a new home that offered far more room.
In a surprise twist, the space we found for the studio included beautiful retail frontage – perfect for that rock and crystal shop we had imagined all those years ago.  When the opportunity to manifest a dream opens before you, you take it!
Meanwhile, Toni had built a career she loved at the San Jose Airport. She had always adored anything to do with planes and flying. But stones were also an abiding passion, and when Suzanne called to see if she wanted to "retire" and take on the adventure of building their childhood dream, Toni took the leap and moved to Sacramento.
Just like that, Rock Mama Gallery was born and the Rock Mamas started on a new journey together.
While we had long fostered our love and knowledge of the crystals, together we studied to deepen and widen our knowledge of crystal lore and pursued certification in Crystal Healing and Mediumship. This deep knowledge and working relationship with the stones ensures that every piece you receive from Rock Mama is cleansed, charged, and blessed with Reiki energy, love and light. We are so happy to welcome each and every one of you into our dream and into our story.   
We could NOT do what we do without the help of our amazing and talented team. We honestly do not know how we have been so lucky as to have these incredible people join us on our journey. They share our deep love for the rocks and for helping people connect with their beauty and energy.
Pendulum time
The Rock Mama witches
Getting ready for live sales
What we are all about
Consciously and lovingly selected crystals, from us to you
Earth
Honoring the Earth, her majesty and mystery
Respect
Honoring the crystals as sacred & wise allies on our journeys
Positivity
Making sure Rock Mama crystals are energetically cleansed, charged & blessed
Curation
Curating a crystal collection that offers quality and beauty at every price point
Growth
Creating a welcoming, kind, and inclusive space for exploration & growth
Sharing
Sharing our love and knowledge of stones in a way that is accessible and fear-free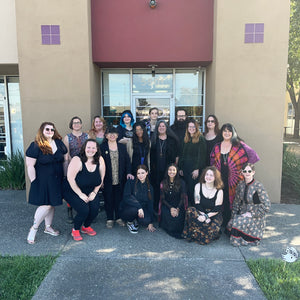 Meet our Rock Star Crew!!!
Our team is filled with awesome, creative people who love to help!
Giving back
We have planted more than 11,000 trees and all our shipping is carbon-neutral. We also are involved in Mendocino Woodlands Stewardship Circle to help preserve this national historic landmark.
Events & classes
We hold ongoing events & classes at our shop in Sacramento California. From painting classes, mediation, tarot cards classes, crystal journey and even drum making.
Shop our huge selection and find that perfect rock or gemstone for you