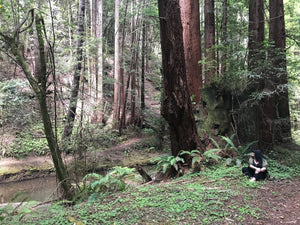 Learn about the ways we give back to Mother Earth and other great causes
The Earth is sacred, she is our mother and our home. At Rock Mama, we are proud to reciprocate, in small part, the gifts she shares with us through our giving and by cultivating an ethic of reuse, recycle and restore.
3500
Pounds carbon offset
We plant trees
With every online purchase, you help us help the planet. In partnership with One Tree Planted, we have planted more than 11,000 trees, to help reclaim the Amazon rainforest, support biodiversity projects in Africa and around the world, and replant California forests devastated by wildfires.
Carbon neutral shipping
All our shipping is carbon-neutral! Thank you carbonfund.org for your fantastic program!.
Stewardship
The Mendocino Woodlands is one of our favorite places in the world. We are excited to participate in their Stewardship Circle, to help maintain and sustain this precious and beautiful resource, a national historic landmark camp, for generations to come.