Bewitching Bronze Collection
Find the perfect necklace style for you
Jewelry
Find the perfect combo of energy and style
Intentional Sets
Curated to offer the support your seek
Shapes
Hearts, pyramids, spheres, cubes, merkabas, moons & stars, and more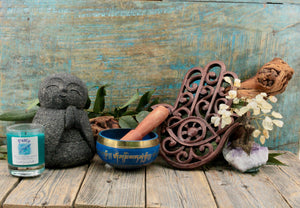 Magical Home & Spa
Brighten your home or office with positive energy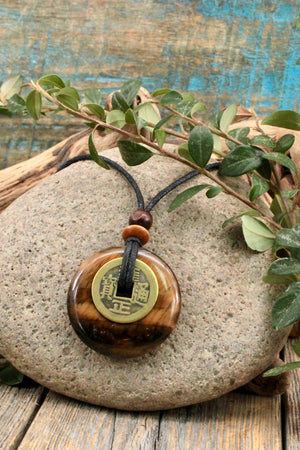 Stone Circle Studio
Our own designs, hand-crafted in-house!
Books & Divination
Tools for your spiritual journey
Live Sales
Join us Thursday nights for Mamas, Margaritas, and Crystal Magic! It's a fun way to shop, learn
a bit about the crystals, and enjoy an exclusive 10% discount.
Watch Now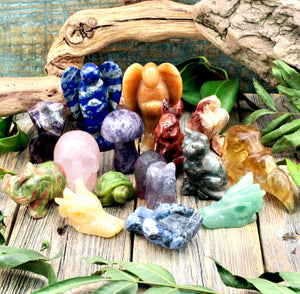 Crystal Carvings
Angels, Animals, Dragons (and so much more) - oh my!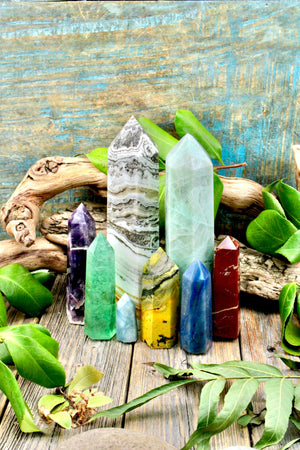 Towers & Pillars
A classic shape in stunning stones
★★★★★

Excellent Quality

The stones are of beautiful quality and the necklace is well made. I'm already planning my next order. So happy to have found this resource.

Anne
★★★★★

She is absolutely gorgeous

Packaged very well and fast delivery, never been disappointed with anything I've purchased from Rockmama and I appreciate that they plant a tree with every order.

Shirley H.
★★★★★

Love of the sun

Received my citriine bracelets. Now I want the pendant. They are like a burst of sun shine.

Nancy D.
★★★★★

Gorgeous!

These earrings are absolutely gorgeous! Nice large pieces of selenite, and a very contemporary design. I've gotten so many compliments on these, and I love how I feel when I wear these. You must get these!

Artgal
★★★★★

Add customer reviews and testimonials to showcase your store's happy customers.

Author's name

Los Angeles, CA
Our Story
A dream fulfilled
We are fueled by our love and passion for rocks & crystals. Our desire is to bring you meaningful & beautiful pieces to add to your collection.
Healing Crystals, Rocks & Crystal Jewelry
At Rock Mama we carry a curated selection of beautiful rocks and powerful crystals. We are passionate about rocks and crystals and have hand-picked our favorite products for you. Browse our crystal clusters, cutbases, caves, towers freeforms, obelisks and crystal flames. Shop for raw rocks and raw crystals and their meanings to select the right piece for your intention. Choose from Jasper, Agate, Tiger's Eye, Rose Quartz, Obsidian, Black Jasper, Hematite, Rhodonite, Green Aventurine, Pyritie, Unakite, Howlite, Serpentine, Moonstone and many more!

Shopping for divination tools? Browse our divination books, tarot card decks, oracle card decks, crystal runes, rune stones magic wands and crystal pendulums. We also have ritual and altar tools like; Selenite charging bowls & plates, mortar & pestles, sage smudge sticks, incense, chalices, brass singing bowl sets, essential oils and sprays. Searching for rocks and crystals that clear your chakra system? Browse our curated chakra stone sets, chakra crystals and crystal chakra wands for the solar plexus, throat, sacral, heart, third eye, root and crown chakra.

You can also shop our rocks and crystals by personal intention. So if you're looking for a crystal for good luck, a crystal for love or a crystal for healing, you'll find it here. Our Jade facial massagers, curated intention stone sets and handcrafted bar soaps make a wonderful birthday gifts. Shop for the Capricorn, Gemini, Aries, Taurus, Virgo, Cancer, Scorpio, Sagittarius, Libra, Pisces Leo and Aquarius to find the perfect gift for any zodiac sign.

Wearing crystals can help to shield your aura from negative energies. If you are looking for a crystal for protection or a crystal for anxiety, shop our talisman jewelry. We have gorgeous gemstone amulets, crystal bracelets, crystal earrings, crystal pendants, protection necklaces as well as malas and Buddhist gemstone prayer beads.

If you're looking for real crystal candleholders, crystal trees, gemstone animal cravings, laughing Buddha statues, goddess statues, Ganesha statues, wind chimes or mobiles, check out our selection of inspirational home goods. Our crystal candle holders are made with Rose Quartz, Selenite and Amethyst. We also carry unique mobiles and wind chime for adults that will bring peace and calmness to any environment. We also carry creative art prints, journals and blank greeting cards celebrating the Divine Feminine by artist Suzanne Grace.

We hope you find a meaningful rock or crystal piece for your collection. If you have any questions about our products please contact us, we're happy to help.